How Attractive Dairy Market – New Dancers in China
New Dancers of China Dairy Market
Based on the growth of China economic, more and more Chinese people pay more attention to the food and health area. Especially for the infant and children dairy market, it is a new opportunity to enter into the market after the scandal of food. More and more companies were attracted and tried to launch in the high growth market.
Evergrande diversifies into dairy products
Evergrande Group, a Guangzhou-based real estate developer, launched a dairy product on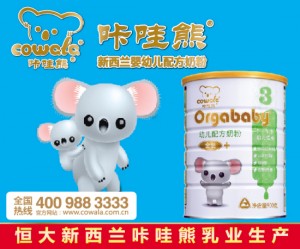 Monday in Guangzhou, the capital of Guangdong province, as part of its efforts to diversify its businesses.
The infant formula was announced after Evergrande bought New Zealand's leading dairy producer Cowala Dairy Limited in early September.Evergrande, which has relied heavily on real estate for business growth since its establishment in 1997, has outlined an ambitious plan to enter the consumer sector to sustain future development, said Xu Wen, vice president of Evergrande.
After launching bottled water in late 2013, Evergrande also set up three subsidiaries in September to develop businesses in the grain and oil, dairy and animal husbandry, according to company sources. "We are bringing high-quality dairy products to the Chinese market, which will help us maintain future growth," said Xu.
Fonterra to invest in Chinese dairy business
SHENZHEN – Global dairy cooperative Fonterra will buy a 20 percent stake in Chinese dairy giant
Beingmate to increase its access to China's infant milk market, Beingmate has announced.
The Shenzhen-listed firm said on Monday evening that Fonterra will invest 3.68 billion yuan ($599 million) to become Beingmate's major shareholder.
The deal is expected to be completed within a month, providing it is approved by China's Securities Regulatory Commission.
After the share transfer, Beingmate and Fonterra will build a joint-venture milk powder factory in Victoria, Australia. Beingmate will invest more than $185 million in the factory, in which it will have a 51 percent ownership, it said.
Beingmate is based in Hangzhou, capital of East China's Zhejiang province, and is the third-biggest Chinese dairy firm in terms of production.
With an annual dairy processing output of 22 billion liters, Fonterra is the world's largest dairy processor and exporter. In addition to consumer brands such as Mainland cheese and Anchor butter, it is also the world's largest dairy ingredients supplier to Nestle and McDonald's.
Fonterra's reputation was damaged in the 2008 scandal over melamine-tainted baby formula produced by China's Sanlu Group, Fonterra bought a 43% stake in Sanlu in 2005.
Synlait Milk to buy 25% stake in New Hope Group unit
New Zealand-based dairy processing company Synlait Milk Ltd is expected to acquire 25

percent of a nutrition unit of China's largest agriculture company, New Hope Group, to gain access to the country's lucrative infant formula market.
"We are pleased to announce we have entered into a conditional agreement, subject to approval, for a 25 percent stake in Sichuan New Hope Nutritional Foods Co Ltd, the company responsible for the ownership, sale and distribution of the Akara-branded infant formula range in China," Synlait Milk Managing Director John Penno said in a news release.
"Through a small investment, the partnership will create an integrated supply chain for the manufacture, packaging, supply, distribution and sale of Akara to consumers in China, ensuring transparency from can to paddock."
Extending read: Evergrande Group Entering Dairy Industry
The article was collected and revised by WELLGREEN PROCESS SOLUTIONS – Your reliable solution for dairy grade sanitary valves and fittings.