expensive food price in May day,China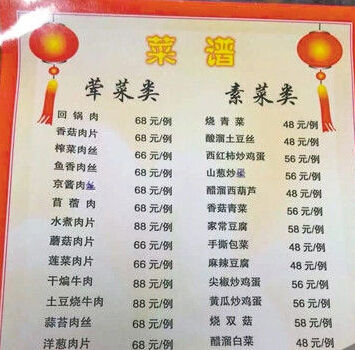 A green onion tofu sell 46 yuan, 15 yuan a bowl of rice to sell …… Mr Wong family "May Day" travel to Shaanxi Huashan, at the top of an ordinary hotel restaurant for three soup, spent 273 yuan.
"No problem selling expensive dish, a bowl of rice also sell 15, you too outrageous." Mr Wong said.
After the Chongqing Morning News reported Huashan official microblogging "high price" of rice, immediately aroused hot friends, and People's Daily, Xinhua, the Southern Metropolis Daily, China Daily and many other media outlets.
May 3, Huashan Tourism Group Co., Ltd. made through the official micro-Bo responded, saying that the overall high price level Mountain Peak, is because the overall high correlation of raw materials and labor costs. At the same time, the resort will be gradually adjusted to lower prices of commodities through the mountains catering and enhance the management level.
Visitors: Mountain Peak bowl of rice sold for 15 yuan
May 2 at noon, Mr Wong family of three trips to Hua Shandong mountain top, walked into a renovated ordinary hotel restaurant prepares lunch. After the trio sat down, the waiter handed me a menu.
"Even though you know resort for dinner is not cheap, but the food price on the menu or be scared." Mr Wong said, the cheapest green onion tofu, also sold for 46 yuan. On this menu, most of the vegetables are more than 50 yuan, 56 yuan a bowl of noodles, meat dishes starting price is 68 yuan.
Wong felt most outrageous is that a bowl of rice to 15 yuan. "Been a lot of local tourism, had never seen an expensive rice." Mr Wong said.
Because did not have breakfast, the stomach has been hungry. Huang eventually bite point dishes: fish-flavored pork, twice-cooked pork, green onion tofu, tomato and egg soup and bowls of rice, spent a total of 273 yuan.
Shop owner: the high cost resulted in higher food prices
After the Chongqing Morning News official microblogging coverage of this issue, many users said that this food price is indeed too high.
Reporter survey found that restaurant on top of the mountain Huashan, the basic implementation of such a "unity of vegetables." And the price of 15 yuan a bowl of rice, has been performed for many years.
"Our food prices have not yet May Day!" A shop owner explained that the price of vegetables in the relevant departments for the record too. Huashan Hai overstating, these ingredients are relying porters came back. Mountains of garbage continue to rely on porters back. "The cost is high, so only sell so expensive."
Mountain altitude of over 2000 meters, a lot of material on top of the hill is indeed a step by step to pick up the mountain by porters.
Because many users climb Huashan, Huashan very hard to know on a trip, but also that they understand these things to sell "astronomical." In their view, porters very hard, money is not easy.
The article was collected and revised by WELLGREEN PROCESS SOLUTIONS – Your reliable solution for dairy grade sanitary valves and fittings.