China Economy is 7.3% Only In Third Quarter
China Economy is 聽7.3% Only聽In Third Quarter 2014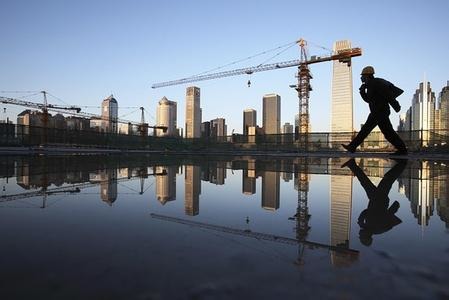 China's GDP Growth is in the lowest rate since early 2009
China's聽GDP聽in聽the聽third聽quarter聽grew聽7.3聽percent聽over聽a聽year聽earlier,聽according聽to聽China National Bureau聽of聽Statistics聽data聽released聽on聽Tuesday,聽the lowest rate since early 2009.
The聽expansion聽rate聽is聽the聽slowest聽since聽the聽first聽quarter聽of聽2009,聽when聽the聽global聽financialcrisis聽roiled聽China.聽China聽in聽the聽first聽half聽of聽this聽year聽grew聽7.4聽percent聽over聽a聽year聽ago.

Leaders are trying to steer China toward growth based on domestic consumption instead of trade and investment, but the slowdown raises fears of dangerous job losses. The latest figures put China on course for annual growth somewhat lower than the rate of 7.5 percent targeted by Chinese leaders.
Chinese growth reached 14 percent in 2007, but took a hit from the global recession of 2008-2009 and has declined steadily since 2012.
The International Monetary Fund said in July that China should lower its growth targets to no more than 7 percent for next year, but some analysts expect an even deeper decline, to as low as 6.8 percent.
That would be stronger than the United States, Japan or Europe, but it would be China's weakest annual growth in two decades.
Analysis of Low GDP Growth
The lowest quarterly GDP growth in five years, cooling real estate sales, weak manufacturing activities, and slower growth in industrial output.
The Chinese economy is facing the biggest challenge since it was hit hard by the global financial crisis five years ago. Worse, policymakers can no longer afford to launch massive stimulus programs to bail it out. They seem to have no way out but accelerate reform and restructuring agenda in an attempt to gradually lead the economy out of the woods.
With its GDP growth at 7.3 percent year-on-year in the third quarter, the lowest this year and the worst since the first quarter of 2009, China is facing the risk of falling short of its annual growth target. But the worst scenario could also mean the start of a recovery.
The low growth rate is caused by weak economic activities, as indicated by a slew of economic indicators in recent months. It is also a result of higher base in the third quarter of last year, when GDP expanded by 7.8 percent.
China Fixed Asset Investment Rises 16.1%
BEIJING, Oct. 21 (Xinhua) — China's urban fixed asset investment grew 16.1 percent year on year to 35.78 trillion yuan (5.8 trillion U.S. dollars) in the first nine months of 2014, the National Bureau of Statistics announced on Tuesday.
The growth pace retreated 0.4 percentage point from the rate seen during the Jan.-Aug. period.
China's Industrial Production Grows 8.5% in First Three Quarters
BEIJING, Oct. 21 (Xinhua) — China's industrial production growth decelerated to 8.5 percent year-on-year in the first three quarters, down 0.3 percentage points from that of the first half, official figures showed on Tuesday.
In September, the industrial output rose 8 percent year-on-year, 1.1 percentage points higher than that of August, the National Bureau of Statistics (NBS) said.
On a month-to-month basis, the industrial output in September expanded by 0.91 percent from August, it said.
The article was collected and revised by WELLGREEN PROCESS SOLUTIONS – Your reliable solution of sanitary valves and fittings.