Evergrande Group Entering Dairy Industry
Evergrande Group Entering Dairy Industry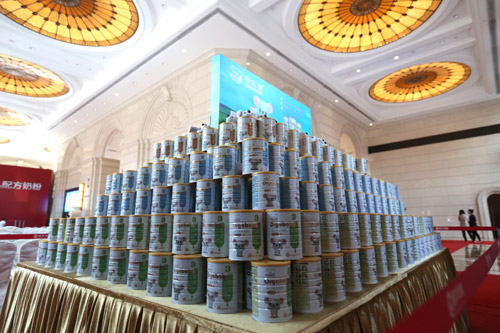 GUANGZHOU, Oct. 28 (Xinhua) — Evergrande Group, a Chinese private conglomerate involved in property development, agriculture and sports, launched an infant formula on Monday following its acquisition of New Zealand dairy producer Cowala Dairy Ltd. last month.
The Guangzhou-based group also plans to build a dairy manufacturing base in China to tap the lucrative market. Chinese consumers have preferred to buy foreign brands following a series of tainted milk scandals in recent years.
The infant formula product under the name Cowala will hit the market nationwide soon, according to an announcement at its launch ceremony on Monday.
The Evergrande Group, which runs China's most successful football club, Guangzhou Evergrandetaobao Football Club, appointed three players to serve as global promotion ambassadors for Cowala infant formula on Monday.
The group, established in 1997, made its fortune through real estate development, but has been diversifying its business in recent years by investing in agriculture, cultural tourism, dairy, livestock and sports.
The group's sales in 2013 reached 100.4 billion yuan (16 billion U.S. dollars), while sales in the first eight months of 2014 reached 90 billion yuan, according to its official website.
The Imported Milk Powder Market of China
Demand for imported milk powder soared in China after 2008 when some Chinese suppliers were found to have added melamine, an industrial chemical that can cause kidney damage and other injuries, to their products. At least six babies died.
By 2013, overseas milk powder brands accounted for 54 percent of the Chinese infant formula milk powder market which is estimated at being worth 100 billion yuan ($16.34 billion), according to Xinhua News Agency.
China introduced new regulations in May to streamline imports of dairy products and domestic dairy enterprises, especially infant formula makers, and companies are now facing increased competition, according to Wang Dingmian, director of the Guangzhou Dairy Industrial Association.
Xinhua has reported that since May more than 1,000 overseas dairy producers, 41 of which make infant formula milk powder, have received entry approval from China's food quality regulator.
Under the new rules, foreign dairy companies must make sure their products comply with Chinese safety standards and are registered with the General Administration of Quality Supervision, Inspection and Quarantine, the top quality watchdog.
"Entering the dairy market, which is not a familiar business for Evergrande, means the company has to strengthen its efforts at ensuring the quality of the product, otherwise customers will lose confidence in Chinese dairy products again," said Wang.
The article was collected and revised by WELLGREEN PROCESS SOLUTIONS – Your reliable solution for dairy grade sanitary valves and fittings.