Food Grade Sanitary Tube and Fittings
Food Grade Sanitary Tube and Fittings
Food grade sanitary tubes can divide into sanitary seamless stainless steel tubes and sanitary welded tubes, the material includes 304,316 and 316L.
Strength of Sanitary Tubes:
Milk and food industry, pharmaceutical industry and special requirements which need a good inner surface. Product quality control adopts ISO9001 management mode, with multi cathode welding (for sanitary stainless steel welded tube), solution heat treatment, online eddy current testing, hydrostatic test, material mechanical and process performance test and metallographic examination.
Process Features of Sanitary Tubes:
Inside welding-seam leveling treatment, solution annealing treatment, electrolytic polishing treated of outer surface and inner surface.
Surface of Sanitary Tubes:
The inner surface roughness (Ra) can reach 0.2 or above, and it with less residue, can prevent bacteria growth. Electrolytic polishing has passivated effect, the inner surface of tube can get a good corrosion resistance performance.
Applications of Sanitary Stainless Steel Tube:
With constant development of the national economy construction, sanitary (food grade) stainless steel tubes are more and more widely used in different industries . Our factory get through the analysis of corrosive resistance performance on the surface, and combined with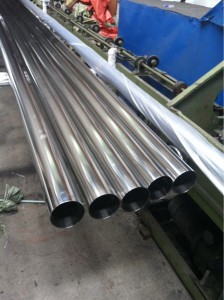 owned sanitary stainless steel tube process and equipment, to produces sanitary food grade tube and fittings with high quality and good surface. Our sanitary tubes and fittings can meet the need of food and liquid industries, and largely used for exporting.
Sanitary seamless stainless steel tubes are widely used in various fields , such as pharmaceutical, food, beer, drinking water, biological engineering, chemical engineering, air purification, aviation, and nuclear industry. There are a large number of exportings every year.
Nowadays, WELLGREEN can produce sanitary tube and fittings which can meet the requirement of FDA, GMP. Our tubings with high quality and high precision, and has been exports worldwide. We hope WELLGREEN can more contribute his strength for food safety and hygiene industries in the future.
The article was collected and revised by WELLGREEN PROCESS SOLUTIONS – Your reliable solution of sanitary valves and fittings.