Happy Chinese Mooncake Festival
Chinese Mooncake Festival
Chinese Mooncake Festival is Mid-autumn Festival, also named Moon Festival. It falls on the 15th day of the 8th lunar month, usually in October in Gregorian calendar. Nowadays, Mooncake Festival is one of the most important traditional holiday in China. Because the influence聽of Chinese culture, Mooncake festival is also a traditional festival of Southeast Asia and Japan, South Korea etc. In China, South Korea, Taiwan聽and Hongkong, Mooncake Festival is listed as a national holiday.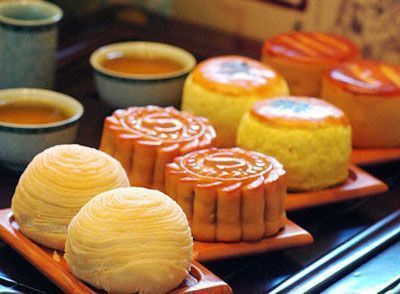 Celebration of Mooncake Festival
Moon Watching
The moon looks extremely round, big and bright on the 15th day of each lunar month. People selected the August 15 to celebrate because the autumn is a harvest season and the weather is pleasant. On the Mid-Autumn Festival, all family members or friends meet outside, putting food on tables and looking up at the sky while talking about life. Therefore, Mookcake Festival is a family reunion聽day, it is a reason why the festival is important for Chinese people.
Mooncakes
In the Mooncake Festival, eating mooncake is an essential custom for Chinese people. Common saying:" Beautiful and perfect circle August 15, fragrant and sweet mooncake Mid-Autumn", mooncake is a very nice food in the ancient China. Many people can eat mooncake in the important day only. Today, mooncake is also a important gift for communication and make friendly contacts of friends and business.
Lanterns
In the middle autumn night, some places has the custom of lanterns. Mid-Autumn Lantern does not like that kind of large-scale of Lantern聽Festival (a traditional holiday too, January 15th of Chinese lunar calendar), the playing is mainly between families, children performed. Start from the Northern Song Dynasty, lanterns is very important celebration for Chinese people. Mid-Autumn Lantern playing is mainly hold in the South of China. Such as Foshan Autumn meeting, there is a variety of kinds of lights: sesame lamps, shell lamps, light wood shavings, straw lamp, scale lamps, chaff lights, pumpkin lights and birds and trees and flowers lights.
Story of Mooncake Festival
In the ancient past, there were ten suns rising in the sky. The scorching sun toasted the land, and people lost their crops and drove people into dire poverty. There was a hero named聽Hou Yi聽who was excellent at shooting. He ascended to the top of the Kunlun Mountain and, directing his superhuman strength to full extent, drew his extraordinary bow and shot down the nine superfluous suns, left only one to provide light.
For this reason, he was respected and loved by the people and lots of people of ideals and integrity came to him to learn martial arts from him. One聽day on his way to the Kunlun Mountain, Hou Yi met Empress Wangmu(One of chief gods of China myths聽and聽legends) there. Wangmu presented to him a parcel of elixir, and said, one would ascend immediately to heaven and become a celestial being.
Hou Yi have a beautiful and kindhearted wife named Chang'e. Hou Yi did not want to leave
Chang'e and be immortal without her, so he let Chang'e keep the elixir. But聽Feng Meng, one of his apprentices, knew this secret. So, on the fifteenth of August in the lunar calendar, when Hou Yi went hunting, Feng Meng broke into Yi's house and forced Chang'e to give the elixir to him. Chang'e refused to do so. Instead, she swallowed it and as soon as she swallowed the elixir her body floated off the ground, dashed out of the window and flew towards heaven. Peng Meng escaped. Since she loved her husband very much and hoped to live nearby, she chose the moon for her residence – as the moon is the nearest place to earth.
When Hou Yi returned home at dark and learned what had happened, he felt so grief. Hou Yi looked up into the night sky and called out the name of his beloved wife when, to his surprise, he found that the moon was especially clear and bright and on it there was a swaying shadow that was exactly like his wife. He displayed the fruits and cakes Chang'e liked in the yard and gave sacrifices to his wife. People soon learned about these activities, and since they also were sympathetic to Chang'e they participated in these sacrifices with Yi.
Wellgreen invited you to enjoy the beautiful story and the nice festival with Chinese people.
– Your reliable solution of sanitary valves and sanitary fittings.聽