Hygienic Non-retention Ball Valve for UK
Hygienic Non-retention Ball Valves Were Shipped
1 1/2″ hygienic non retention ball valve for UK was shipped before Chinese Labour Day holiday. This time is tally 40pcs for UK market of one our our reputed client, it will be used a hygienic equipment.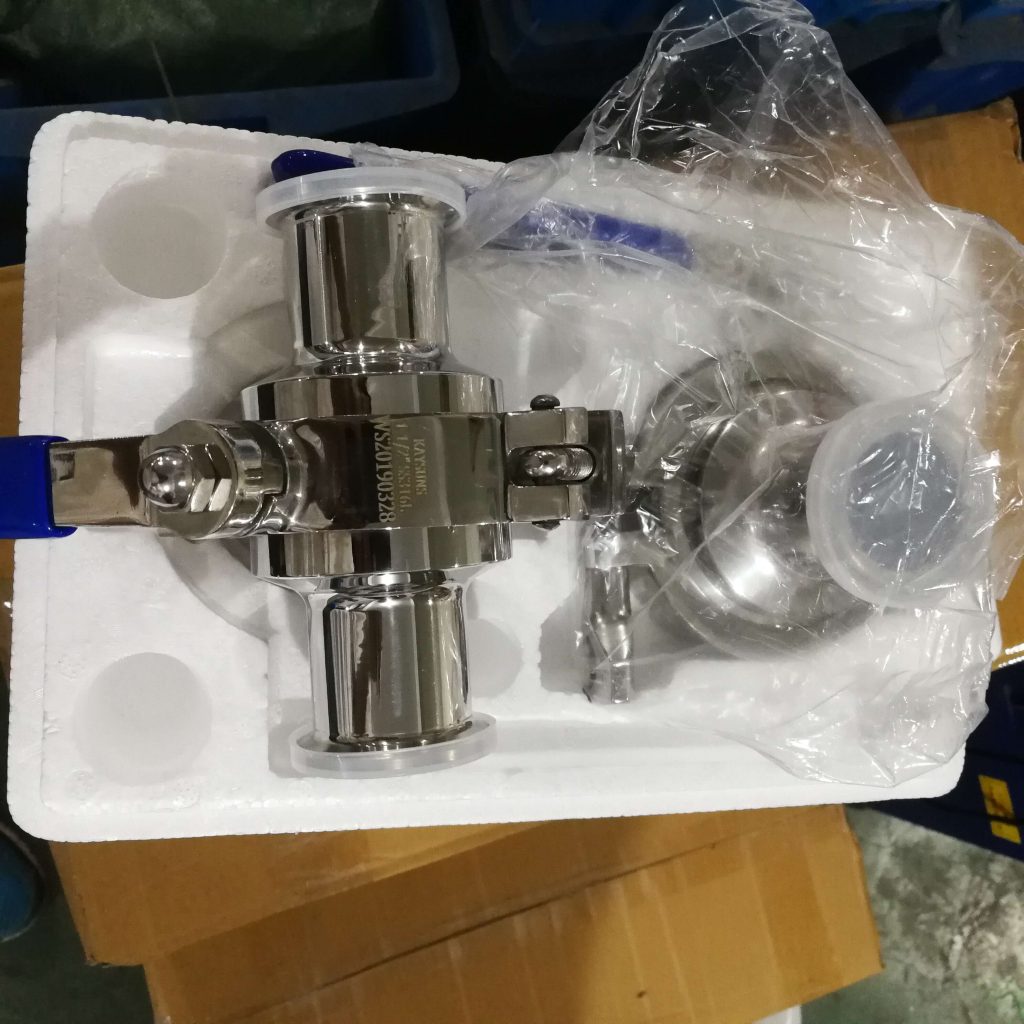 This sanitary ball valves are our clamped type on retention ball valve, it is easy for cleaning. The valve body and trim are SS316, PTFE seat, surface polish is better than 0.8?m. We finish the order in 15 days because the urgent requirement from client, and ship it to UK by TNT.
We are looking forward to get a new order from the client. Maybe some sanitary plug valve will come by next time?
---
What is Non-retention Ball Valve:
The fundamental difference between non-retention ball valve and a normal ball valve is the design of the sealing.
The non-retaining ball valve usually refers to the sanitary ball valve, which prevents the residual dead space of the medium, with no residual and aseptic
The ball and the seal of the ordinary ball valve usually have small gaps, and the medium will have some residual after over-flow.
Principle of non-retention ball valve: In the valve body, the left and right valve covers are respectively provided with a filling sealing seat for preventing the medium from entering the cavity, and the filling sealing seat has a semi-circular groove which matched with the spherical surface of the ball. At the bottom of the groove, there are flow passage holes matching the media flow passages of the left and right bonnets, and the ball is placed in the two filling seal seats and is sealed with the grooves of the two filling seal seats.
The effective design is that in the cavity of the valve body, the cavity space are filled by two filling sealing seats, it made the medium cannot enter the cavity of the valve body when the ball rotates, to get the result of non-retention purpose of the ball valve. At the same time, it can effectively prevent the medium from touching the inner surface of valve body, avoiding inside corrosion, and ensuring the hyginiec level requirements of the ball valve.
Wellgreen provides 2 type of non-retention ball valve for hygienic application. One is clamped design and it is very easy for cleaning. Another is 3 pcs non-retention ball valve. Click here to check the dimension.
For more information about Hygienic Non-retention Ball Valve, please contact us.