Introduction of Sanitary Manual Diaphragm Valve
Introduction of Sanitary Manual Diaphragm Valve
Sanitary diaphragm valve is made up by body, valve bonnet and diaphragm plate. The material of valve should be corrosion resistance, therefore the general material of this valve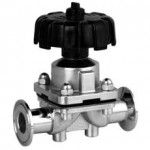 is 316L. The valve body is forged or investment casting, then we can get a good performance for the high purity requriement. The material certificate of valve must be traceability. Sanitary manual diaphragm valve is a manual operated stainless steel diaphragm valve, it is general type and widely used for food,beverage,dairy,pharmaceutical聽industries etc.
What is Manual Diaphragm Valve
Manual diaphragm valve has sterilization function, can also called manual drive straight stop valve. It was made by EPDM diaphragm material, precision casting stainless steel valve body, no dead angle channel with straight polishing, and it has functions of opening, closing and state display. This valve has good acid resistance, alkali resistance, no leakage, no contamination, easy to sterilize and maintain.
Features and working principles of diaphragm valve:
-Diaphragm which is made of rubber or plastic soft seal, good sealing. The diaphragm is wearing part, should be replaced periodically depending on the media characteristics.
-Restricted by the diaphragm material, diaphragm valve is suitable for the occasion of relatively low pressure and not too high temperature.
-Diaphragm pressed elastomeric film on the valve seat to cut off the gas by using stem. Stem can move up and down by rotating the hand wheel, to make valve seat opens the valve or make diaphragm pressed on the valve seat to close the valve. If this valve adopts NBR diaphragm, can used in the former level and drainage pipeline and the corrosive gas which temperature is 25 ~ 80 掳C.If this valve adopts FKM diaphragm, it can used in high vacuum system, the temperature should be -30~150掳C.
The article was collected and revised by WELLGREEN PROCESS SOLUTIONS– Your reliable solutions of sanitary valves and fittings .