Let us Pray for The Air Crash of Malaysia Airline MH17
Let's Pray for The Air Crash of Malaysia Airline MH17

[Tragedy?A Dutch passenger posted a photo of MH17 before boarding hoping that the plane 'do not disappear'] A suspected passenger of MH17 posted the Malaysia Airline MH17 photo on his Facebook with words like "The plane is like this, just in case of disappearing". After the crash, a large number of peoples replied his Facebook: "hoping this isn't true".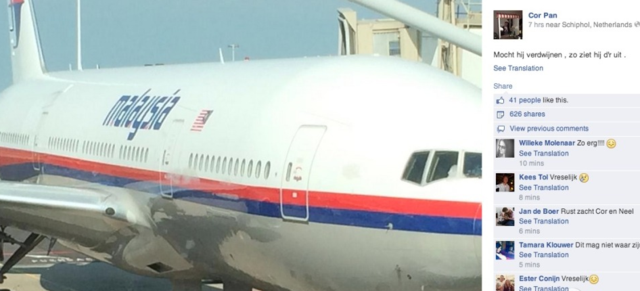 Beijing July 18 morning news, a plane of Boeing 777 aircraft which belong to Malaysia Airlines from Amsterdam to Kuala Lumpur was shot down by missile when over the eastern regions of Ukraine , killing all 298 people on board. Pro-Russian government was accused by Ukraine government, but the rebels of Ukrainian separatists denied.
United States and Europe strengthen sanctions against Russia has made investors to look back the risk of geopolitical , while Malaysia Airlines airliner shot down accidentally in Ukraine airspace makes the situation poured oil on the flame.
U.S. stocks ended sharply lower on Thursday, the Dow fell 17,000 point mark, the S & P 500 index hit over the largest single-day decline in three months. On the disk, the major plate聽generally lowered in value by Malaysia Airlines crash affected, airline stocks fell across the board. Immediately international gold and crude oil prices rose sharply, favored safe-haven assets, market panic index soared.
Asian stock markets opened lower on Friday generally, Nikkei Index fell more than 1 percent, with other Asian stock markets fell. JGB yields warming impact by hedging demand fell 1.3% gold hold onto overnight gains.
The News was publised by WELLGREEN PROCESS SOLUTIONS.