Why Need Stainless Steel Sanitary Fittings
Why Need Stainless Steel Sanitary Fittings
Stainless Steel Sanitary Fittings have good corrosion resistance, heat resistance , low temperature strength and mechanical features. It鈥檚 corrosion resistance in the atmospheric, if is the industrial atmosphere or heavy pollution area, you need to clean in time to avoid the corrosion.
Sanitary fittings are suitable for use in food processing, storage and transportation. Has a good processing performance and weld ability.
Sanitary Valve and Fitting Are Good to The Environment.
In recent years,sanitary valve and fittings products are widely used for application of food,dairy,beverage,brewing and and pharmaceutical etc. The using rate is increasing in industrial waste water, construction and industry structure too.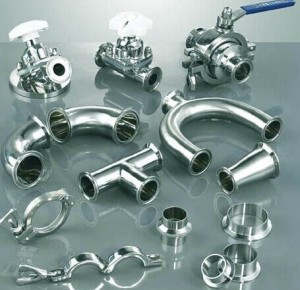 In the water treatment industry, water gets polluted during the process of its storage and
transportation. A large number of practice has proved that sanitary fittings are the best choice in many industries. Such as preparation,
storage, transport, water purification, regeneration and desalination.
Sanitary fittings can achieve many ideal performance of architectural design material required. It can be said to be unique in the metal, and its development is still going on.
Sanitary Fittings Can Ensure The Safety of The Foods
Focus on the safety of food, we require that sanitary fittings have good corrosion resistance and its harmful element can not separate out into the fluid. So we can get purity food and beverage from the basically.
Meanwhile, sanitary fittings has good mechanical property聽and processability. Sanitary fittings are normally made in stainless steel 304, 316L etc., with different connection types. It is easy for installation and maintenance, the equipment can meet FDA and GMP requirement very well to use sanitary fittings.
The article was collected and revised by WELLGREEN PROCESS SOLUTIONS– Your reliable solution of stainless steel sanitary fittings.