Sanitary Pneumatic Diaphragm Valve
Sanitary Pneumatic Diaphragm Valve
Sanitary Pneumatic Diaphragm Valve is an aseptic diaphragm valve,聽 which can be operated by an air diaphragm actuator, and can also be operated by handle. It鈥檚 very suitable for pipeline fluid opening and closing control. The quality and purity of food and drug have significantly increased in recent years. Our tautness sanitary pneumatic diaphragm valves are playing an important role in this industry. Sanitary pneumatic diaphragm valve was created in 40 years ago,it make the processing is more purity than before. Nowadays, diaphragm valve is more effectively used in sanitary tubing equipment, and widely applied for the industries of brewing, dairy, beverage, food and pharmaceutical field which need aseptic condition.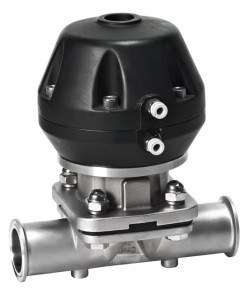 Overview of sanitary pneumatic diaphragm valve:
Sanitary pneumatic diaphragm valve consists of sanitary diaphragm valve and pneumatic actuator. It is powered by compressed air, to adjust the flow of fluid medium. Using anti-corrosion valve body and anti-corrosion diaphragm, no packing box structure, the restricting element is elastic diaphragm, the flow channel of the body is smooth, so sanitary pneumatic diaphragm valve is full of advantages, such as: small gravity, high flow, no leakage, convenient, reliable and fire proof and explosion proof. Widely used in industrial automation system of strong acid, strong alkali, strong corrosion, high viscosity, containing clever grain, with fiber and the flow regulation of toxic and the medium which is not allowed to be polluted.
Function of sanitary pneumatic diaphragm valve
Sanitary pneumatic diaphragm valve is the best choice for cut off and cut of medium, and shunt function, sometimes also can be used for throttling.
Suitable medium for sanitary pneumatic diaphragm valve
Corrosion resistance and sticky fluid, such as slurry, food, drug and fiber liquid.
Application of sanitary pneumatic diaphragm valve
Sanitary pneumatic diaphragm valve are widely used in the biological pharmacy, food industry, as well as electric power, chemical and electroplating in treatment of industrial water, and also been applied to the production of semiconductor wafers.
Notice
Sanitary pneumatic diaphragm valve is not suitable for temperatures above 60 degrees and the pipeline which is transporting organic solvents and strong oxidizing medium, also not suitable using in the high pressure pipes.
Advantages of sanitary pneumatic diaphragm valve
The most prominent feature of Sanitary pneumatic diaphragm valve is the diaphragm separates lower part of the body and upper valve cover, ensures the valve stem, valve plate and other parts above the diaphragm from corrosion, get rid of the packing seal structure and won鈥檛 produce leakage of medium.
In the pipeline, diaphragm valve operating mechanism is not exposed to the delivery of fluid, so it鈥檚 non polluting and no need to pack, the packing part of stem won鈥檛 leakage.

Installation considerations of sanitary pneumatic diaphragm valve
Check carefully whether the operating conditions of a lineis consistent with the use of the provisions of this valve before installation, and should be clean the inside of the cavity, to prevent dirt jam or damage to the sealing parts.
Don鈥檛 brush fat items in the rubber lining and the surface of diaphragm of rubber, in case the rubber swelling, affect the service life of diaphragm valve
The hand wheel or transmission mechanism, are not allowed for lifting, and collision is forbidden
Can鈥檛 use the aid of auxiliary lever when operating diaphragm valve by hand, to prevent damage the sealing parts or drive component.
Diaphragm valve should be stored in a dry ventilated room,聽strictly prohibited to stack, both ends of the channel must be sealed, and open-closed part should be slightly open.

Parameter of sanitary pneumatic diaphragm valve
The difference of the diaphragm valve was caused by diameter, material and pressure, no publishing price.
Connections: Flanged, Threaded(inside thread), clamped
Drive mode: Manual operation, pneumatic operation, electric operation
Diameter: DN15-DN150聽 Pressure:1.0MPA-32MPA
Temperature: -40掳C to +450掳C
Material: Carbon steel, Stainless steel, Nodular cast iron, Gary cast iron and other special steel
The article was collected and revised by WELLGREEN PROCESS SOLUTIONS– Your reliable solution of Sanitary pneumatic diaphragm valve.