Top 10 Food and Beverage Companies 2014 of China
Top 10 Food and Beverage Companies 2014 of China
Food sector is a major industry in China. However, food companies in China also face many challenges. To satisfy 1.3 billion people's dietary needs is no small feat, especially with growing concern over food safety and rising number of food-related scandals. While some local brands are bearing the brunt of food scares, the industry leaders have seized the opportunity to step up M&A effort and consolidate territories.
Here we introduce top 10 food and beverage companies 2014 of China:
No.1聽COFCO聽Group
COFCO Group is the largest supplier of diversified products and services in the agricultural products and food industry in China. It is devoted to utilizing renewable natural resources to provide healthy and nutritious food, high quality lifestyle and services, as well as contributing to improve people鈥檚 living standards, social prosperity and stability.
No.2聽Inner聽Mongolia聽Yili聽Industrial聽Group聽Co聽Ltd
Inner Mongolia Yili Industrial Group Co Ltd is a dairy company. It is engaged in processing and manufacturing of milk products, including ice cream, milk powder, milk tea powder, sterilized milk and fresh milk under "Yili" brand. It is headquartered in Hohhot. The company was an official sponsor of the 2008 Beijing Olympics.
No.3聽Shuanghui聽Group
Shuanghui Group is a privately-owned meat processing company headquartered in Luohe,
Henan, China. The company's businesses include hog raising, consumer meat products, flavoring products, and logistics. It is the largest meat producer in China. On May 29, 2013, Shuanghui announced it would purchase American pork producer Smithfield Foods Inc.
No.4聽China聽Mengniu聽Dairy聽Co聽Ltd
China Mengniu Dairy Co Ltd is a manufacturing and distribution company of dairy products and ice cream in China. The company is based in Inner Mongolia and manufactures dairy products under the Mengniu brand.
The biggest shareholder of Mengniu now is COFCO聽Group, it owns about 20% share.
No.5聽Bright聽Food聽(Group)聽Corp聽Ltd
Bright Food (Group) Co Ltd is a multinational food and beverages company headquartered in Shanghai. Bright Food has four listed subsidiaries, Bright Dairy & Food Co Ltd Shanghai First Provisions Store Co Ltd, Shanghai Maling Aquarius Co Ltd and Shanghai Haibo Co Ltd
The company acquired a 60 per cent stake in the British breakfast cereals manufacturer Weetabix Ltd in 2012 and agreed to acquire a 56 per cent stake in the Israeli Dairy producer Tnuva in 2014.
No.6聽Hangzhou聽Wahaha聽Group聽Co聽Ltd
Hangzhou Wahaha Group Co Ltd is a private company, and the largest non-alcoholic beverage producer in China. The company is headquartered in Hangzhou, Zhejiang province. Wahaha has roughly 150 subsidiary companies and 60 manufacturing bases scattered throughout China. It employs about 60,000 staff.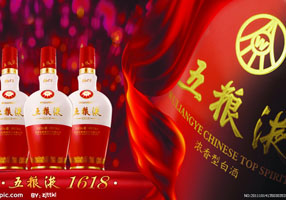 No.7聽Wuliangye聽Yibin聽Co聽Ltd
Wuliangye Yibin Co Ltd is a Chinese alcoholic beverage company. It specializes in manufacturing baijiu, and is best known for Wuliangye, made from five organic grains: Proso millet, corn, glutinous rice, long grain rice and wheat. Headquartered in Yibin, Sichuan Province, the company distributes its products all over the domestic market, and exports to overseas markets. The company has eight major subsidiaries.
Wuliangye reportedly ranks first in terms of market share compared with other liquor brands.
No.8聽Tsingtao聽Brewery聽Co聽Ltd
Tsingtao Brewery Co Ltd is China's largest brewery. It was founded in 1903 by a German and now claims about 15 percent of domestic market share. The beer is produced in Qingdao in Shandong province and it gets its name from the old transliteration of the city's name. The beer's present-day logo displays an image of Zhan Qiao, a famous pier on Qingdao's southern shore.
No.9聽Kweichow聽Moutai聽Co聽Ltd
Kweichow Moutai Co Ltd is a State-owned company in China, specializing in the production and sales of Maotai liquor, together with the production and sale of other beverages, food and packaging material. Its A shares were listed on the Shanghai Stock Exchange in 2001. It is one of the stocks listed in Shanghai whose share price is over 100 yuan.
No.10 Yurun Group Ltd

Yurun Group Ltd is the second-largest meat supplier in China. It is headquartered in Nanjing, Jiangsu. It operates in two sectors, chilled and frozen meat, and processed meat products, which are marketed under the brand names of Yurun, Furun, Wangrun, and Popular Meat Packing.
The article was collected and revised by WELLGREEN PROCESS SOLUTIONS – Your reliable solution for dairy grade sanitary valves and fittings.