Types of Sanitary Butt Welding Pipe Fittings
Types of Sanitary Butt Welding Pipe聽Fittings
Sanitary stainless steel seamless and welded butt welding pipe聽fittings
The list of product standard of stainless steel butt welding tube fittings includes WELD elbow, tee,cross, reducer, end cap, tube bend, stub end, tube branch and so on.
The common elbows include 45掳 elbow, 180掳 elbow and 90掳 elbow according to its bending angle. As per different radius, there are long radius elbow (R = 1.5 DN, the bending radius is about 1.5 times of nominal diameter) and short radius elbow (R =1.0 DN, the bending radius is about 1 times of nominal diameter); Among them, 90掳 long radius elbow includes reducing elbow . In addition, according to the needs of piping system, there will be special angle of elbow, such as 60掳, 88掳 25″ elbow etc.
Tee and cross have two different ports of equal and reducing. The diameter of pipe end are the same size of tee and cross; The main pipe ends of reducing tee and cross are the same size, but the diameter of outlet pipe end is different from main pipe.
Reducer has concentric and eccentric types, the large end and small end of concentric reducer are in one axis; Large end diameter and small end diameter of eccentric reducer are in two parallel lines, one side of small diameter end is parallel to the outside edge of the large end diameter.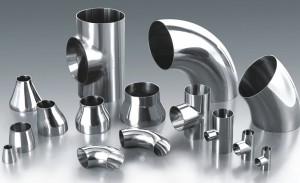 Products of Stainless Steel Butt Welding Pipe Fittings
Type

Category

Elbow

45掳long radiu掳

90掳long radius

Equal

Reducing

90掳short radius

180掳long radius

180掳short radius

Tee

Equal

Reducing

Cross

Equal

Reducing

Reducer

Concentric

Eccentric

Cap

Round

Ellipse

Stub ends

Long

Short

Outlet Branch

Bend Pipe
The article was collected and revised by WELLGREEN PROCESS SOLUTIONS– Your reliable solution of stainless steel sanitary weld pipe fittings..