Typhoon Fung-Wong Prepares for Landfall on Wenzhou, Zhejiang
Typhoon Fung-Wong Prepares for Landfall on Wenzhou, Zhejiang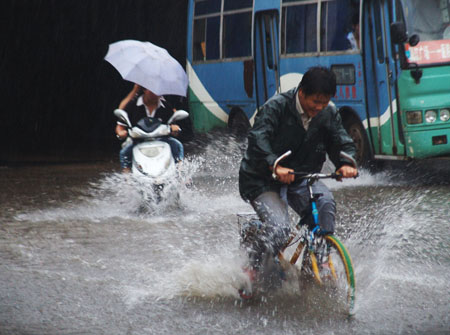 BEIJING – Shanghai, Zhejiang and Fujian provinces are expecting major rainstorms as typhoon Fung-Wong is expected to make landfall on the eastern coast of the Chinese mainland between afternoon and evening hours today, the National Meteorological Center forecast(NMC).
The typhoon, which has already made three landfalls, will make a fourth between Wenzhou and Wenling cities in Zhejiang, according to the forecast.
The typhoon will then gradually move to the coastal areas in the provinces of Fujian and Zhejiang, bringing rainstorms and strong gales of up to level 13 along the way, the NMC forecast, issuing a rainstorm blue alert for those regions.
From 8 pm till 8 am Tuesday, the southern part of the Yellow Sea and a large part of the East China Sea will see strong gales. Maximum precipitation in parts of Zhejiang could reach 300 millimeters, the forecast said.
China has a four-tier color-coded warning system for severe weather, with red being the most serious, followed by orange, yellow and blue.
Fung-Wong has killed at least聽seven people in the Philippines, including Metro Manila, Philippines' state disaster management agency has said.
Heavy rain started in coastal areas of Zhejiang on Sunday.
As of 4 pm Sunday, nearly 160,000 million people in coastal cities including Ningbo, Wenzhou and Taizhou in the province had been evacuated, and 30,000 fishing boats returned to port.
Because the Typhoon, the schools in Wenzhou closed on Monday. Many factories of stainless steel sanitary pipe fittings closed too in Wenzhou, it is expected to put back on production聽on Sep. 23th, 2014.
The article was collected and revised by WELLGREEN PROCESS SOLUTIONS – Your reliable solution of sanitary valves and fittings.