Vietnam Steel Association Sees Dip In Crude Steel Production
Vietnam Steel Association Sees Dip In Crude Steel Production In 2017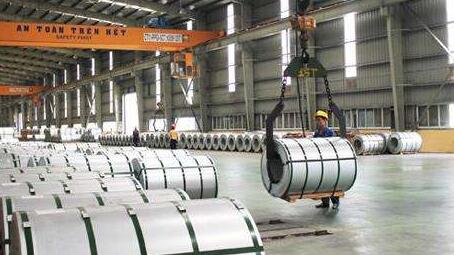 According to the Ministry of Industry and Trade, Vietnam鈥檚 steel industry plans to produce 5.5 million tonnes of crude steel and 5.8 million tonnes of rolled steel this year. These figures represent a year on year increases of 16.6% and 18% respectively.
Meanwhile, the Vietnam Steel Association said production would continue to grow, but at a slower pace than in 2016. The total steel output for this year is estimated to increase 12% year on year to reach 19.6 million tonnes.
This year, the ministry will use trade barriers to ensure fair competition with steel imports and also follow closely the impact of such measures on domestic production and consumption.
The ministry has directed steel enterprises to upgrade production technologies and save production costs to become more competitive. They should also have flexible monthly and quarterly plans to build a distribution network and promote their brands.
Chairman of VSA said the association will continue to propose development policies for the steel industry. It will also monitor the market for raw materials and semi-processed products that have a direct impact on the domestic market, including iron ore, scrap steel, steel ingots and hot-rolled steel in order to provide timely information to local enterprises.
According to the VSA, the steel industry turned out 17.5 million tonnes of steel last year, up 16.8% from 2015. This included 5.1 million tonnes of crude steel and 5.3 million tonnes of rolled steel, a year-on-year growth of 20.5% and 26.8% respectively.
The association said that more than 15.3 million tonnes of the annual output was sold, representing an annual increase of 23.7%.
VSA Chairman was quoted by the bnews.vn. website as saying the growth in construction steel, which makes up about 50 per cent of the total steel products, was a highlight of 2016.
Over 8.5 million tonnes of building beams were produced last year, an increase of 18.3 per cent year-on-year, and sales of the product also jumped 20.6 per cent to 8.4 million tonnes.
Collected by聽sanitaryvalvefittings.com