When will McDonald's resume their meat sales?
When will resume all of their meat sales of McDonald's?
McDonald's is beginning to resume their sales of meat products in Beijing market what were stopped 聽because of the Expired Meat Scandal of聽Shanghai Husi Food Co.
The Expired Meat聽Scandal attacked聽McDonald's reputation so much, it is not first happened to them. Also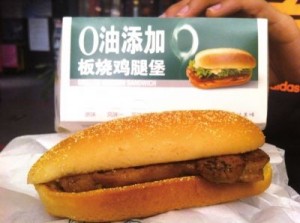 it undermined fragile confidence in Chinese food safety system. McDonald's – The top 500 enterprises can 聽lose their controlling of food inspection, who can held it well now? No one can answer it, the food safety system is really weak in China.
Chinese people is still trust McDonald's because there is no other reliable聽alternatives. Therefore, you can see many peoples has already back to this famous Western fast food restaurant.聽The burger giant suspended its dealings with Husi after it was discovered that the Shanghai company was supplying expired meat to restaurants. McDonald's withdrew 13 meat products on July 25.
Now,it seems that McDonald's has got their new supplier of meat and chicken, it is gradually starting to sell the items again at some of their outlets. However there is no clear timeline to indicate when all the products will be available again.
Everyone knows China is a huge market of food and everything, and Chinese people can consume a聽unimaginable to the food. But please obey the law and sell safety foods to Chinese people, and Wellgreen expects to improve the food safety system with you together. Let us share health everyday!
What is聽Husi Food Expired Meat Event?
-Husi was reported to sell expired meat to McDonald's, KFC, Starbuck etc, and the management of 6 people has already captured by Shanghai Police. About the details, please visit our previous information:聽Expired Meat Scandal of McDonald's Supplier.
The article was collected and published by Wellgreen Process Solutions – Your reliable sources for sanitary fittings, sanitary valves etc.