---
Sanitary Sampling Valve
Sanitary Sampling Valve is applied to aseptic collection of material sample in the hygienic industries like brewery, semiconductor and biopharmaceutical water systems etc. With different connection ends, it can be easily applied in pipelines and tank equipments. Stainless steel sanitary sampling valve of Wellgreen is easily extract a sample of a liquid for analysis. Our sanitary valves are are ultrasonically cleaned and dried, it is your reliable source for tank and process vessel etc.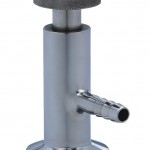 Design:
Sanitary sampling valve consists of three parts – a valve body, a valve head and a membrane. The rubber membrane is placed on the stem of the valve head and works as a stretchable plug.
The membrane functions are both – as a dynamic packing in the valve seat and as a hygienic, static packing against the valve body.
The unique design eliminates dead spaces and preventing microbial and particulate build-up -which may interfere with microbiological test results.
Perfect hygienic design and surface finish of the inner part of sanitary sampling valve enables absolute sterilization in a closed state.
Sterilization and sampling can be carried out regularly without interrupting the production process.
Easily attached to a liquid distribution line or a storage tank.
      Material:
Stainless Steel 304,316L or en.1.4301, 1.4404 forged.
    Strength:
    Material of stainless steel 316L and 1.4404 is from reputed mill to guarantee the chemical composition and mechanical properties. Material certificate will be submitted follow to orders.
    Forged valve body and disc to control the leakage and visual.
    

Superior

 facilities and good experiences for fabrication.
    In ability to improve and develop new design.
    Fast delivery is possible to meet your needs well in time.
    Low cost from bulk production will reduce your budget and improve your business.
    Small quantity available.
     Quality & Inspection:
     PMI test to verify material grade
     Dimension controlling during fabricating and finished
     Visual and surface 100% examination before shipment
     Packed in carton box firstly, then in wooden case
     Third party inspection available.
    Application:
    Food, Brewery, Beverage, Dairy, Pharmaceutical, Biopharma etc.
---
Technical Specifications & Options of Sanitary Sampling Valve
General Specifications of Sanitary Sampling Valve

Max. Pressure

0~6 bar (600Kpa)

Continuous Working Temperature

-10°C ~ +121°C(EPDM)

Sterilization Temperature

150°C (Max 20min)

Internal Surface Finish

R?0.8?m

External Surface Finish

R?1.6?m

Connection Standards

DIN, SMS, 3A, ISO

Connection Methods

Welding, Clamp, Threading

Material

Product Wetted

304 (1.4301) or 316L (1.4404)

Other Steel Parts

304 (1.4301)

EN 10204 3.1B certificate is available on request.

Membrane

MVQ EPDM

Options

FPM, Silicone, NBR

All seal materials comply with FDA 177.2600.
*For more information of Stainless Steel Sanitary Sampling Valve, please contact us for details.