---
Sanitary Butterfly Valve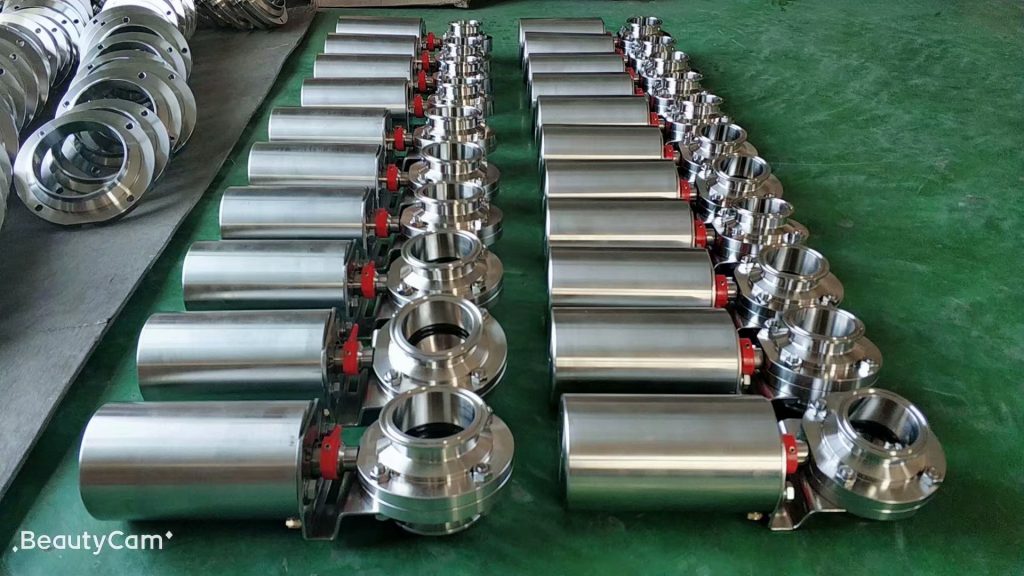 Sanitary butterfly valve is a stainless steel butterfly valve with high precision and purity requirements for the industries of food and beverage, beer brewing, biopharmaceutical and fine chemicals. Stainless steel sanitary butterfly valve has a simple structure, it is mainly composed of a split body, a valve disc, a valve stem and a driving. Compared with sanitary ball valve, sanitary butterfly valve not only have the adavantages of simple structure, small size, light weight, small material consumption, small installation size etc., but also have small driving torque, simple and rapid operation, and good flow regulation, sealing characteristics etc. When the butterfly valve is in the fully open position, the thickness of the disc is the only resistance when the medium flows through the valve body. So the pressure drop generated by butterfly valve is small, the valve has better flow control characteristics. In the food grade industry, sanitary butterfly valve is one of the largest and most common hygienic valve.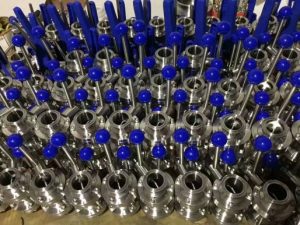 Generally the pressure requirements of hygienic systerm is low and small, sanitary butterfly valves are mainly soft seat. The more common sealing materials are NBR, EPDM, VITON, FPM and so on. Wellgreen's butterfly valves are mainly made of forged stainless steel 304 or 316L, which has good corrosion resistance, working performace and long service life. We can provide different types and standard series of sanitary butterfly valves according to customer requirements, adapting to different connection types and driving methods to meet the diverse needs of different projects
---
Sanitary Stainless Steel Butterfly Valve Types We Supplies
Our sanitary stainless steel butterfly valves are typically forged 304 or 316, which is the most widely used material in the food industry.
Sanitary Butterfly Valve Types according to Driving Method:
Sanitary Butterfly Valve Types according to End Connected Type:
*** It is available for other connected upon the requirement, such as one end clamp x one end weld, one end threaded x one end union etc.
Sanitary Butterfly Valve Types according to Different Dimension Series:
The Operated types of Manual Handle and Actuated Butterfly Valve
Manual Handle Type:
About manual handing, there are four different types for choosing, they are different materials with different adjusting positions.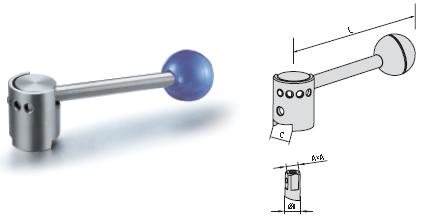 Round Pull Handle with 2 positions, 3 positions, 4 positions, avaiable for all types sanitary butterfly valve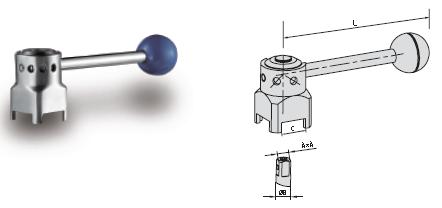 Square Pull Handle with 2 positions, 3 positions, 4 positions, avaiable for all types sanitary butterfly valve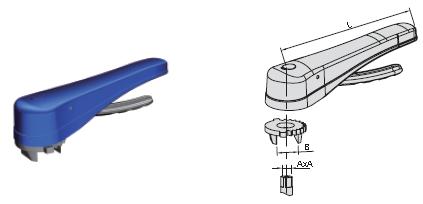 C type multi-position Handle (plastic handling) with 12 positions of 15 degree each position, avaiable for all types sanitary butterfly valve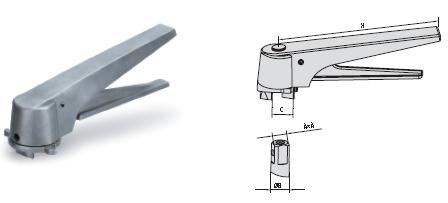 D type multi-position stainless steel handle with 12 positions of 15 degree each position, avaiable for all types sanitary butterfly valve
**Generally the manual handle is stainless steel 304, whatever the wetted part is AISI 304 or 316L. If you have any special requirement, please don't hesitate to tell us.
Pneumatic and Electric Actuator:
After years of development, pneumatic operated is a common choosing for many projects and equipments, especially in Europe and North America.
Wellgreen provides 2 types of pneumatic actuator based on the different actutor material.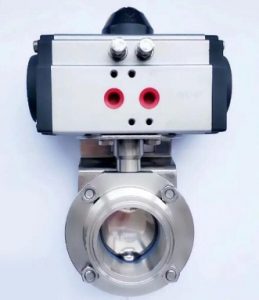 Aluminium Alloy Pneumatic Actuator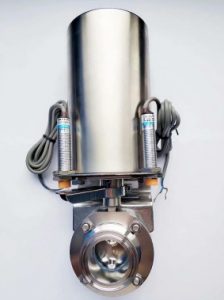 Stainless Steel Pneumatic Actuator
Aluminium Alloy Electric Actuator
For detailed information of pneumatic and electric operated butterfly valve, please check our butterfly valve catalog.
---
Design
Variety designs to meet different needs.
Full line from 1″ to 12″, with handle and automatical operated.
Multi-connection of tri-clamp,buttweld,thread,flange etc.
The valve body can be changeable with any kind of connection.
Pull handle is suitalde up to DN25/1″ to DN300/12″ valve.
Compact and robust design.
Gaskets are available in NBR, MVQ or FPM, which all confirm to standard of FDA177.2600.
Material
Forged Stainless Steel 304, w.1.4301,
Forged Stainless Steel 316L, w.1.4404 etc.
End Connection
Tri-Clamped, Butt-weld, Threaded, Flanged etc.
to 3A, DIN, SMS, BS, RTJ, ISO, IDF, DS, INCH etc.
Strength
Forged stainless steel 316L and 1.4404, Material certificate to EN10204 available.
Customized fabrication available.
Fast delivery to meet your needs well in time.
Package service with sanitary fittings – save time and cost.
Good experience for worldwide supplying.
Flexibility on order quantity and operation.
Pre-fabrication and assembling available.
Quality & Inspection
PMI test to verify material grade
Dimension controlling during fabricating and finished
Visual and surface 100% examination before shipment
Packed in carton box firstly, then in wooden case
Third party inspection available.
Application
Food, Brewery, Beverage, Dairy, Pharmaceutical, Biopharma etc.
---
Technical Specifications – Stainless Steel Sanitary Butterfly Valve for Food, Dairy, Brewery and Biopharm etc.
General Features of Sanitary Butterfly Valve

Working Pressure

DN20 ~ DN100 / ½" ~ 4″

0~10 bar

DN125 ~ DN150 / 5″ ~ 6″

0~8 bar

DN200 ~ DN300 / 8″ ~ 12″

0~5 bar

Working

Temperature

Continuous Working Temperature

-10°C ~ +121°C(EPDM)

Sterilization Temperature

150°C (Max. 20min)

Surface Finish

Internal Surface Finish

R?0.8?m

External Surface Finish

R?1.6?m

Connections

Connection Standards

DIN, SMS, 3A, ISO, RJT, IDF etc

Connection Methods

Welded, Threaded, Clamped, Flanged

Material

Metal Material

Wetted Parts

304 (1.4301) or 316L (1.4404) forged

Other Steel Parts

304 (1.4301)

EN 10204 3.1B certificate is available on request.

Seal Material

Standard

EPDM

Options

FPM, Silicone, NBR

All seal materials comply with FDA 177.2600.

Manual Handles & Pneumatic Actuator

Manual Handle

Standard

4-position pull handle

Options

Plastic multi-position handle(12 position)

Stainless steel multi-position handle(12 position)

Pneumatic

Actuator

Standard

Stainless Steel Pneumatic

Actuator (Vertical)

Standard

Air/Air (A/A)

Options

Normally Closed (NC)/ Normally Open (NO)

Options

Aluminum Alloy Pneumatic

Actuator (Horizontal)

Standard

Air/Air (A/A)

Options

Normally Closed (NC)/ Normally Open (NO)

Air Supply

Dry & Filtered Compressed Air
*For more information of sanitary butterfly valve, please feel free to contact us.